FUNCTIONALITY AND PERSPECTIVE IN DANCE w/Judith Sánchez Ruíz
28th June 2021
Leading up to the premiere of her new grandiose empowerment-piece ENCAJE FOR TEN [24th + 25th July 2021], Judith Sánchez Ruíz will be offering morning classes over an entire week at TRAUMA's Studio F.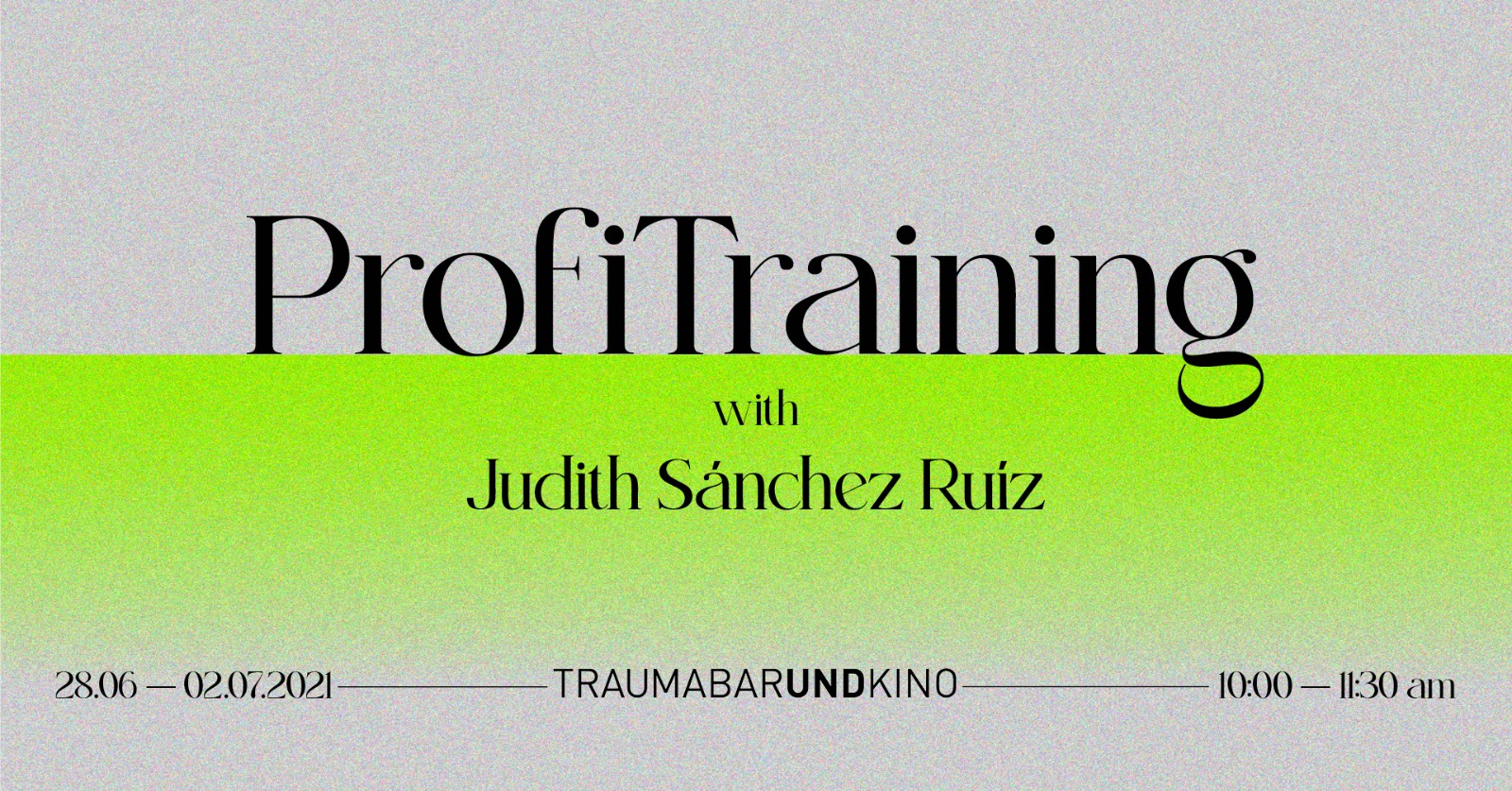 28th June - 2nd July, 10:00-11:30
15-€ for a single class
60-€ for the whole week
Registration needed in advance via tanz@traumabarundkino.de
A negativ COVID-19 test (within 24h) or a proof of full vaccination/recovery will be required at arrival.
•••••••••••
Functionality And Perspective In Dance is the culmination of Judith Sánchez Ruíz's year-long investigation in release technique. All classes are focused on the importance of being grounded. You will be working around initiation and arrival; visceral and organic movement. The class builds up stamina, but at the same time creates a deeper understanding of the shifting of weights, clarity of movements, attention to details, and precision and dynamics in a multidirectional approach. Expect to wake up your imagination with a functionally aware body!
Judith Sánchez Ruíz is an independent artist with a rich history as a choreographer, performer, and improviser. The Berlin–based director began her dance studies at the age of 11 at the National School of Arts (Ciudad de la Habana, Cuba). She has worked with Sasha Waltz & Guest, (2011-2014); Deborah Hay, (2012); Trisha Brown Dance Company, (2006-2009); DD Dorvillier, (2002, 2019); David Zambrano, (1997), Mal Pelo Company, (1997-1999); and DanzAbierta Company, (1991-1996). She established the JSR Company in NYC in 2010, creating numerous choreographic stage works and site-specific projects involving live music with pioneering composers and visual artists.
Furthermore, Judith has worked as a guest professor at Weißensee Kunsthochschule teaching the Master Arts Programme (2020) on 'Spatial Strategies' and at the Inter-University Centre for Dance (HZT) Berlin t Bachelor programme 'Dance, Context, Choreography' (2019-2021).