KONTINUUM 002
25th September 2021
KONTINUUM 002: Back once again
A connection beyond the physical. Together we augment and communicate through sonic frequencies to experience language without borders.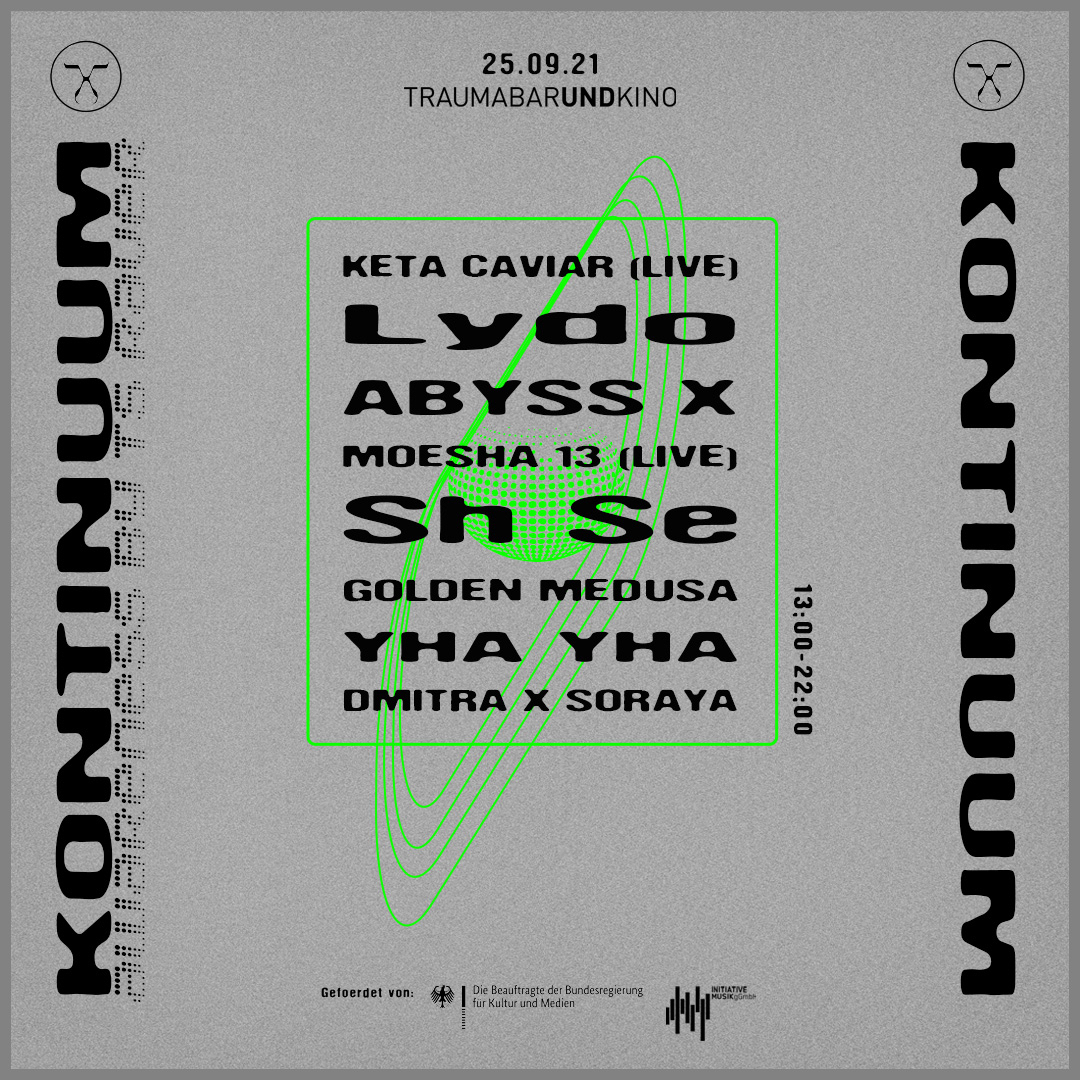 Keta Caviar (ex Knigi) - [LIVE]
https://soundcloud.com/ketacaviar
Lydo
https://soundcloud.com/lydole
Moesha 13 - [LIVE]
https://soundcloud.com/moesha13officiel
Abyss X
https://soundcloud.com/abyssxxx
SH SE
https://soundcloud.com/djshse
Golden Medusa
https://soundcloud.com/goldenmedusa
Yha Yha
https://soundcloud.com/yha_yha
Dmitra x Soraya
https://soundcloud.com/kontinuum_productions
14 euros at the door - no presale - limited capacity
Awareness by TS Raver
Berlin's TS Raver project aims to resist and confront racial, gender and consumption bias by engaging in harm reduction, awareness-building, and movement within our rave space. Our awareness teams are strategically positioned queer and trans guides who combine professional expertise and crisis intervention. TS Raver's presence offers temporary or immediate medical personal support with intention on destigmatizing use. We invest in one another as our own best resources. Our rave care work focuses on relational care and social isolation, mental distress, and anti-violence. Peer-to-peer support as a form of creative intervention, implies equality.
We would like to remind all our guests that attendance is only possible for guests who can present a vaccination certificate and a negative COVID test result not older than 24 hours at the entrance.
Gefördert von der Beauftragten der Bundesregierung für Kultur und Medien und der Initiative Musik
www.kulturstaatsministerin.de
www.initiative-musik.de