VERMILLION CLOSING [CANCELLED]
4th December 2021
For the finissage of »Vermillion« – an exhibition by Tea Stražičić, Trauma Bar und Kino presents a line-up to compliment the show.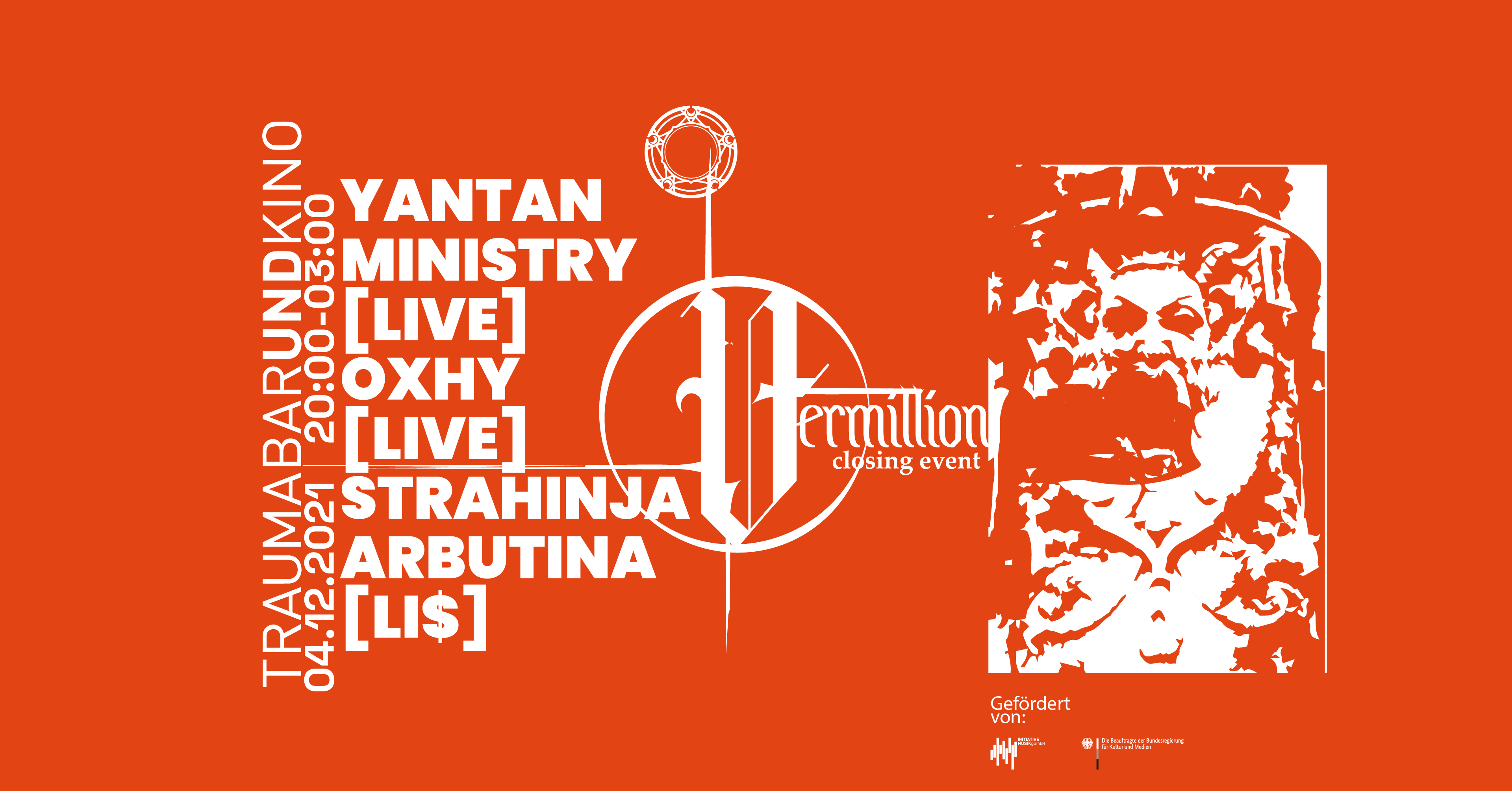 YANTAN MINISTRY [LIVE]
Yantan Ministry is an experimental composer, live musician and DJ. Recognisable by their mercuriality and eclectic movements, their work permeates a keen interest in ambiguity, obfuscation and the emotional body; an ever present suggestion of their inclinations being motivated by stepping outside the frame to highlight a riddle, to create feelingly and work within mythical space.
They self-released their edits pack Attacco Mixtape in 2018, followed by the interpretative piece Raw Red Redux on Swedish label Country Music. Their debut EP, Radio Unnameable, was released in 2020 on Berlin based experimental label Yegorka, followed by Flagrant Hours in 2021 on the same, with duo Kittisol.
https://yantanministry.bandcamp.com
OXHY [LIVE]
oxhy is a musician from London: "no two things alike. every comparison is awkwardly rough".
https://oxhy.bandcamp.com/music
STRAHINJA ARBUTINA [LOW INCOME SQUAD]
An essential component in the steady ascension of the Croatian collective low income $quad over the last couple of years, Strahinja has established himself as a prime mover for the whole local scene, stacking up releases on labels small and big, from PUPPY Tapes to BANK Records NYC and Natural Sciences, via London's Bliq and the multi-faceted Clan Destine Records to Planetaria, with a track coming out soon on REPITCH Recordings. His music is a mixture of noise, techno and industrial where Memphis rap samples can sit on top of pounding hardcore and breakneck speed-techno loops. He's currently a monthly resident on NTS Radio and, since a year ago, runs a new label called Optimism Is Out To Get You, focused entirely on new takes and variations of 90s-inspired techno and trance.
https://www.nts.live/shows/low-income-squad
The Vermillion exhibition will be on view during this event:
Trauma Bar und Kino is pleased to present Vermillion, a solo exhibition by the Croatian-born, Berlin-based artist Tea Stražičić.
The show is in a form of an oversized graphic novel, referencing the dystopian fiction which Stražičić co-authored with Nicholas Zhu. The stories' protagonists, Riders of the Apocalypse, are on their way to a doomsday party, set out on a journey to deliver Behemot to an Anti-Diluvian Club.
6.11.21 - 8.12.21
Artist: Tea Stražičić
Text: Tea Stražičić, Nicholas Zhu, poem by Drazen Dukat
Animation: Anna Sagadin
Calligraphic book object: Jean-Baptiste Normand
Curation: Madalina Stanescu
Flyer by Nick Zhu
This is a 2G + event. No entry without vaccination pass or recovery document and same day negative antigen test.
Gefördert von der Beauftragten der Bundesregierung für Kultur und Medien und der Initiative Musik
www.kulturstaatsministerin.de
www.initiative-musik.de