Juliana Huxtable presents Tongue in the Mind
17th November 2023
We're excited to welcome back Juliana Huxtable for a guest curation, presenting a launch for her 3-piece band Tongue in the Mind, support set by Japanese artist Tot Onyx, followed by DJ sets by the band themselves.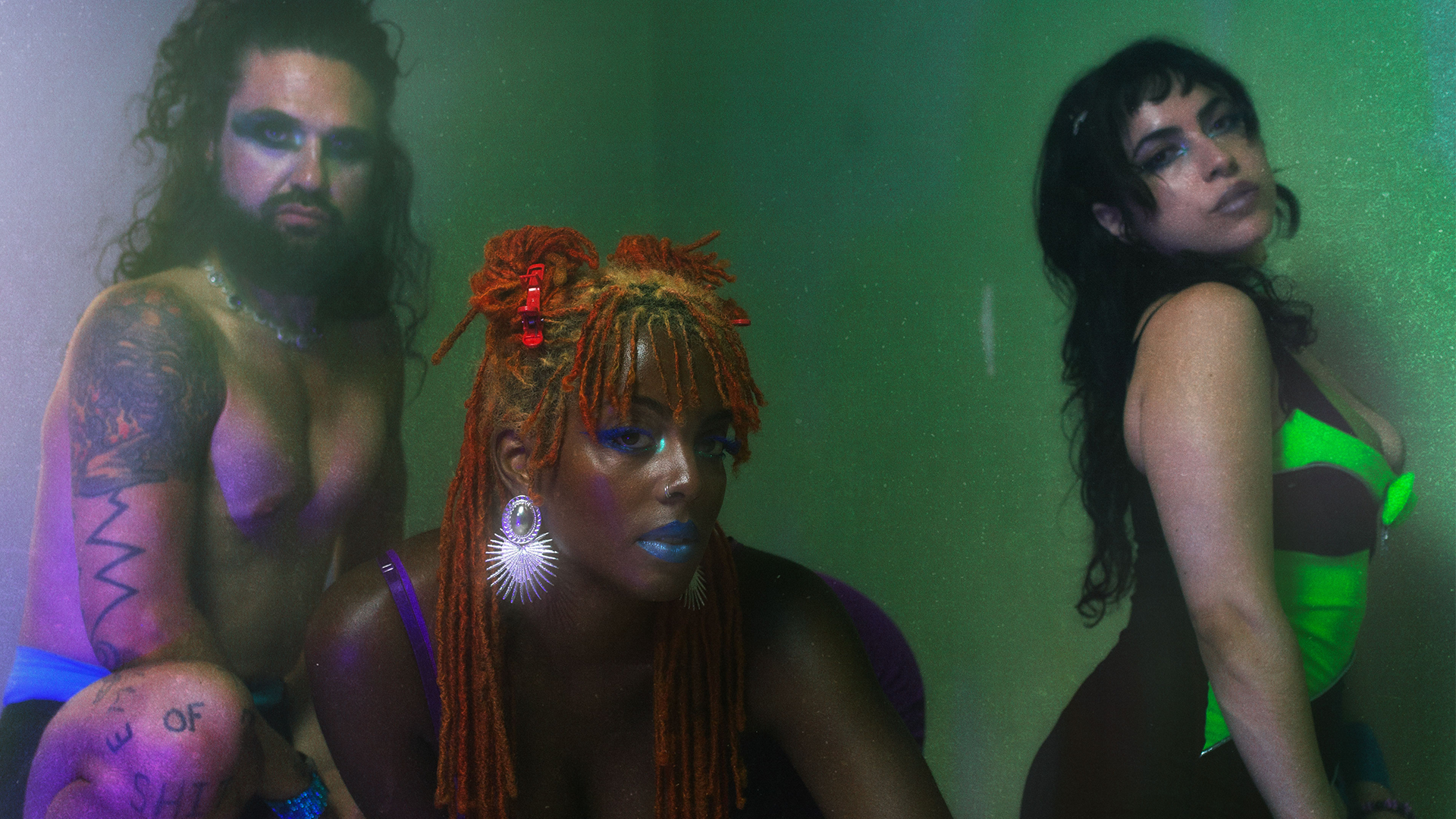 Photo credit: Kolja Tinkova
20:00 Doors
TONGUE IN THE MIND
Tongue in the Mind evolved heedfully from almost a decade of creative back-and-forth between multimedia artist, DJ and writer Juliana Huxtable and multi-instrumentalist composer Joe Rinaldo Heffernan, aka Jealous Orgasm. Starting life in New York City as free-flowing improvisational performance art, the project shifted as Huxtable and Heffernan's confidence in each other swelled and their collaboration became more compositional and ostentatious. Coaxing each other to take risks and metamorphose artistically, the duo's roles flickered and spiraled; Huxtable would set down the mic to jam on synths and percussion, while Heffernan would move from instruments to vocals. Production and arrangement became a synergistic process and little by little, a defined musical fingerprint appeared.
The duo became a trio in 2023, when NYC-based producer Dylan Shir (aka Via App) joined to augment Huxtable and Heffernan's serrated, high-concept prog-metal with dizzying samples, electronic drums, synths and sequences. Over the last decade, Scheer has developed a reputation for their playful, cobalt-hued sci-fi club experiments, and a close friendship with Huxtable and Heffernan easily metamorphosed into a deep creative exchange. Shir brings a cosmic backbone to Tongue in the Mind's lyrical, meta-musical narratives, adding crucial low- end and dancefloor mysticism to the band's noisy, ornate oscillations. Heffernan meanwhile administers a long-held obsession with metal and punk into his classically conditioned arrangements, while Huxtable - who currently lives between New York and Berlin - imparts creative knowledge from her years of experience as a groundbreaking DJ and vernacular- bending poet.
The trio's music is impossible to confine within strict genre boundaries, mutating pointillistically as it vibrates through rock, jazz, club and experimental forms, adducing Huxtable, Shir and Heffernan's creative past without threatening to duplicate it. It's an energy that's already landed them on some of the world's most prestigious stages: they were commissioned by MoMA for Performa 15, played at Primavera Sound in Barcelona and closed out The Netherlands' Rewire Festival in 2018.
Their first single 'Pretty Canary' and debut long-form release are due on the legendary PAN imprint in spring and winter respectively and both harness a little of contemporary New York City's chaos and contorted elegance. Future shock and modern malaise aren't filtered through the expected amalgamation of galvanized sonics and post-everything rhythmic signals, but spun into colorful silks that hang in opposition to expectation, reflecting post-punk and no wave, prog and DIY pop as Huxtable, Heffernan and Shir blot surreal vocals over lysergic instrumentation. Sensual and perversely physical, it's music that genuinely rises to the promise of psychedelia by asking not what's real, but what's lavish.
TOT ONYX
Formed in 2012, group A's exploration of breaking the preconceptions of live performance by incorporating use of the body, live-painting, noise and poetry, was met with great enthusiasm and excitement from small art spaces to established festivals, such as Berlin's Atonal. Adept at bending expectations, both live and on record, the band's formative early work echoes the experiential vocabulary in which Tommi continues to develop today. A practice in the rejection of tradition and cliché, which in Greil Marcus's words, »…share the principles of negation, rebellion, destruction and détournement«. Tommi's foundation in graphic design and photography is expressed through frequent collaborations with visual artists, media artists and videographers, which is crucial to her experimentation in both sound and performance. Following group A's collaboration with Christoph Winkler for their first theatre piece, Ernest Berk The Complete Expressionist (HAU2, CTM Festival, Berlin, 2018) and the multimedia performance piece with Dana Gingras, anOther (Agora de la Danse, Montreal, 2018), Tommi continues her solo work with a focus on such creative performance. In 2021 she composed and performed in the theatre piece Das Beuys (Theater Thikwa, Berlin) which was the result of her study of Butoh under the choreographer and director of the piece, Yuko Kaseki. She also spent the second half of 2021 working and finalising the score for Juri Padel's film JUNK SPACE BERLIN, which will premiere in 2022. Projects such as these lay a foothold for Tommi's expanding musical expression and further exploration into sound design. Tot Onyx's debut album 'Senno I' was released in October 2022 on iDEAL Recordings.
If your personal situation doesn't allow you to afford a full-priced ticket, please contact us directly no later than 1 day before the event: reduced (at) traumabarundkino.de