TRAUMA UNCLOGGED w/ Sadaf + Jan Vorisek
11th May 2023
performance
concert
INSTALLATION
For the second Thursday performance inside TRAUMA UNCLOGGED the installation by Anne de Vries, we welcome Iranian artist, Sadaf H Nava and Swiss artist, Jan Vorisek.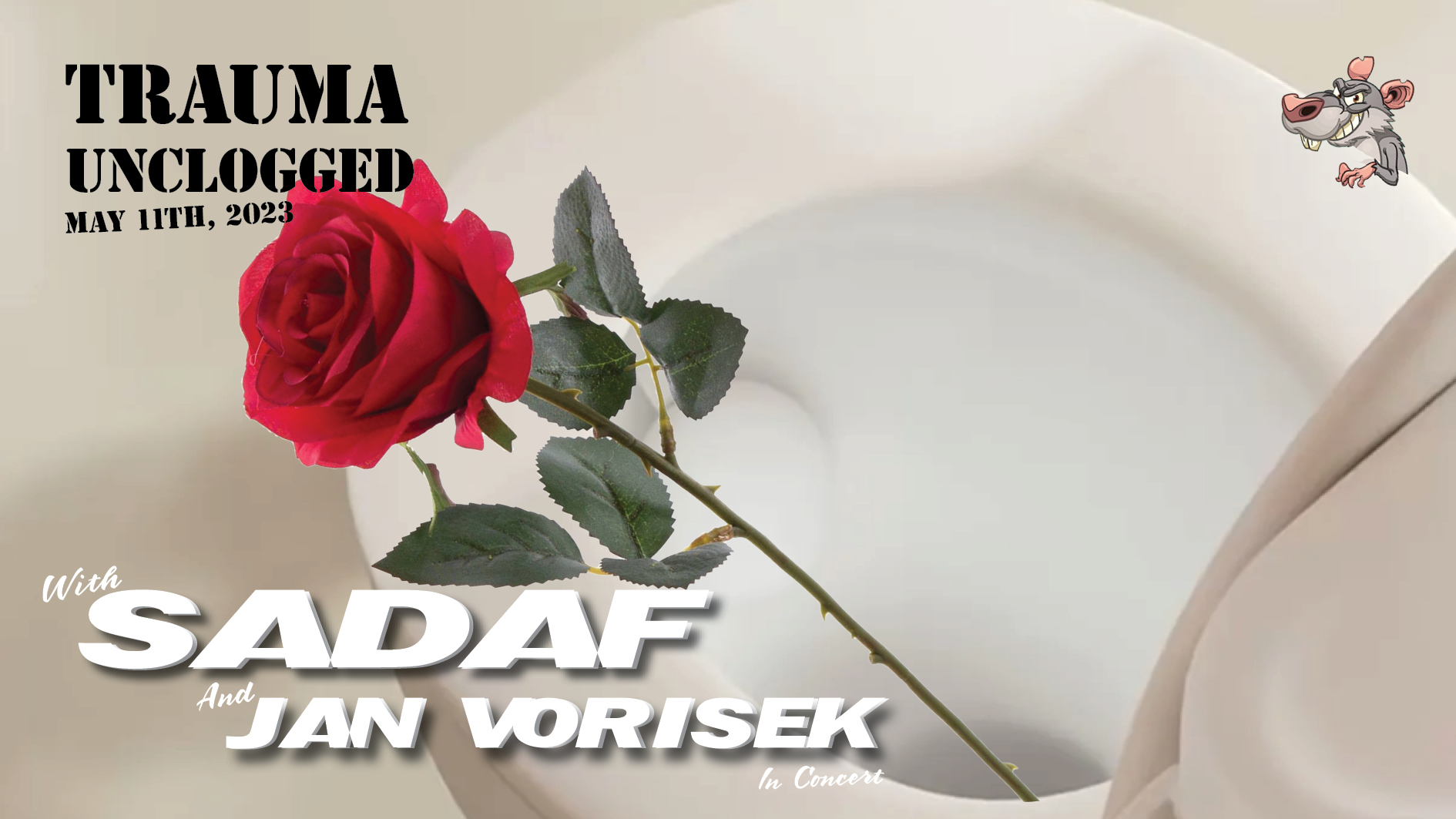 8pm Doors
9pm Jan Vorisek
10pm Sadaf
Sadaf H. Nava is an Iranian-born, New York-based director, visual artist and composer whose multidisciplinary interventions include film, sound, drawing, painting and performance. She released her debut EP with LA-based record label Outside Insight, and her first full-length LP, History of Heat, on Blueberry Records.
Nava's work uses visuals, sonics and confrontational tactics to upend contemporary performance. Her paintings and visual work follow a similar process of improvisation, with a focus on key themes including self-portraiture, fragmented narratives and reenacted memory.
Sadaf has presented work at the Museum of Modern Art's PS1 Warm Up and Sunday Sessions, Issue Project Room, the ninth Berlin Biennale and the Museum of Fine Arts Montreal. They have been featured by titles such as The Guardian, i-D and The Wire.
Jan Vorisek (b. 1987, Basel) lives and works in Zurich. They work across sculpture, installation, performance, improvised music and noise. Vorisek's installations are site-specific commentary, ephemera and documentation – all examining formal hierarchies. With assemblages consisting of used and found materials, as well as sound-producing devices, the artist reflects on the fluctuation of noise as a vessel for information. Accumulated materials and objects are disassembled into their component parts and then subjected to new systems of organization. This can take the form of vertical formations meandering through the room, selective markings or large-scale architectural interventions. The subtly animated structures function as both producer of and resonant space for sounds, which test and exceed the limits of perceptibility. Jan Vorisek's self-performing structures and scores are complemented by edits of sounds recorded outdoors– echos of urban space — in which "inside" merges with "outside" and exact dimensions of the work remain undefined. in 2021 he release a 7inch record titled Erratic Shine on the label Czarna Gora. Together with Mathis Altmann and Lhaga Koondhor he organizes a series of club nights called HOUSE OF MIXED EMOTIONS or in short H.O.M.E.
Jan Vorisek (b.1987, CH) lives and works in Zurich. Recent international exhibitions projects include Arcadia Missa, UK; Zaza Milano, IT; High Art Arles, FR; Museion Bolzano, IT; Kunstmuseum Bonn, DE; Swiss Institute, New York, US; Platin B E++, Vienna, AU; Kunsthaus Glarus, CH; Festspielehaus Hellerau, ICA Milano, IT; Dresden, DE; Luma Foundation, Zürich, CH; Auto Italia London, UK; Observation Society, Guangzhou, CN; Kunsthalle Basel, CH; Gallery Bernhard Zürich, CH; Plato, Ostrava, CZ; Swiss Institute, New York, US; Kunsthalle St. Gallen, CH; TG, Nottingham, UK; Espace Arlaud, Lausanne, CH; Gallery Fitzpatrick, Paris, FR; Supportive Lopez, Berlin, DE; Kunsthalle Exnergasse, Vienna, AU; 83 Pitt Street, New York, US; Alte Fabrik, Rapperswil, CH; HeK, Basel CH; Plymouth Rock, Zürich, CH; Ooga Booga, Los Angeles, US; Kunsthal Charlottenborg, Copenhagen, DK; Kunstverein Braunschweig, DE; Hard Hat, Geneva, CH; New Jerseyy Basel, CH;
This performance is presented in conjunction with the immersive installation TRAUMA UNCLOGGED by Anne de Vries, curated by Madalina Stanescu.
Trauma Bar und Kino is pleased to introduce you to Anne de Vries' latest art project TRAUMA UNCLOGGED about the connections between clubbing and plumbing. Anne has dismantled and flushed our venue thoroughly before a drastic reconfiguration. We hope you appreciate this new and more open layout, as well as the events we have prepared to complement this unique setting.
If your personal situation doesn't allow you to afford a full-priced ticket, please contact us directly no later than 1 day before the event: reduced (at) traumabarundkino.de